Podcast: Play in new window | Download (Duration: 32:46 — 26.4MB)
Subscribe: Google Podcasts | Stitcher | Email | RSS | More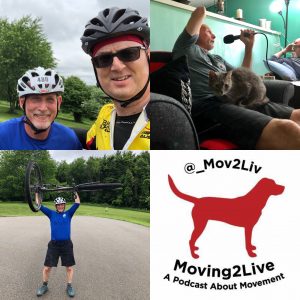 Brian Joly, Rolfer, in his own words:
"I am a dilettante in some ways and a "specifist" in other ways. It took me about 20 years to come up with a way of making a living that fit me. I certainly tried a few other things along the way. In the fitness realm, though, I have always been more of an aerobic freak, not freak like in high VO max, but I fell in love with endorphins at a fairly early age. In many ways, athletics saved me from possibly becoming addicted to substances.
I have been a cross country runner since high school, but always ran for football in middle school. I had a Schwinn Continental 10 speed and bicycled with the Boy Scouts on the C&O, to Toronto and from Virginia Beach to Nags Head and back. I used to do regular 30 to 60 mile rides through the more rural (at the time) back roads of Westmoreland County. As a runner I certainly have some benchmark times and I often think that had I had a better coach, I might have done even better. The problem was that I love to run and would seldom taper. Now as a middle aged dude, I am fairly varied in my activities, still running and biking, but skiing, kayaking and hockey have all been added to my repertoire.
As a Rolfer, I am constantly amazed at how we use and mis-use our bodies. Rolfing informs my body as well as my vision. I try to maintain a good balance in my physical body and my mental body."
Show Notes:
Brian Joly, Certified Advanced Rolfer, contact info:
E-mail: BrianJoly7@gmail.com
Website: http://www.brianjolyrolfing.com
Facebook: https://www.facebook.com/Brian-Joly-Rolfer-366779443335333/
LinkedIn: https://www.linkedin.com/in/brian-joly-053bb392/
Links mentioned in the Podcast (Part 2):
Brian Joly was a guest on our sister podcast FitLabPGH (episode released 10/15/16).
Here's the link: http://fitlabpgh.blubrry.com/2016/10/15/brian-joly-rolfer/
Jim D. Asher, Rolfing, Cranial Sacral, Boulder, CO
http://coloradocranial.com
Jon Martine, Integrative Manual Therapy for Posture, Pain and Performance, Longmont, CO and Denver, CO
http://jonathanmartine.com
Tessy Brungardt, Certified Advanced Rolfer- Ruscombe Mansion Community Health Center, Baltimore, MD
http://www.ruscombe.org/practitioners/tessy-brungardt/
Francie Desmone, Acupuncturist, Pittsburgh, PA
http://www.navigatingwellnessllc.com
check out the episode of our sister podcast FitLabPGH featuring Franci Desmone, Owner, Navigating Wellness LLC, released 10/22/17.
Link: http://fitlabpgh.blubrry.com/2017/10/22/podcast-44-17-francie-desmone-acupuncturist-navigating-wellness-llc/
AND check out the Moving2Live Podcast episodes featuring Francie Desmone, released 6/27/18 and 7/25/18.
Link to Part 1: http://bit.ly/M2L-Desmone1
Menachem Brodie, Owner, Human Vortex Training
https://www.humanvortextraining.com
check out the Moving2Live Podcast episodes featuring Menachem Brodie, released 3/28/18 and 4/11/18.
Link to Part 1: http://moving2live.blubrry.com/2018/03/28/podcast-13-18-menachem-brodie-human-vortex-training-part-1/
So There I Was Podcast, Hosted by Brian Joly and Matt Pascal
https://www.facebook.com/SoThereIWasPA/
Contact Info for Moving2Live:
Web: Moving2Live
Email: mov2liv@gmail.com
Twitter: @_mov2liv
Instagram: @_mov2liv
Check out our sister podcast Fitness Lab Pittsburgh– FitLabPGH
Attribution for Intro/Exit Podcast Music:
 Travel Light by Jason Shaw from the album Audionautix: Acoustic, licensed under an Attribution 3.0 United States License. Available at www.FreeMusicArchive.org