Podcast: Play in new window | Download (Duration: 39:46 — 31.9MB)
Subscribe: Google Podcasts | Stitcher | Email | RSS | More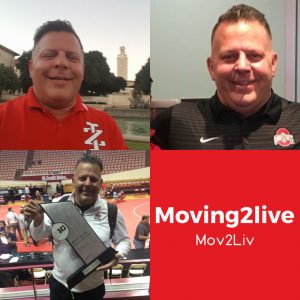 Don Moxley is 1985 alum and captain of the Ohio State University Wrestling team, Moxley began working with the team again in February 2015. That team went on to win the 2015 National Championship, the first in school history.  The cornerstone of his practice is the ability to integrate technology that gives humans of all types the ability to track their performance in strength, cardiovascular, readiness and technical training programs on a workout-by-workout basis. Using the feedback of the central nervous system to plan and periodize practice, training and recovery, we continue to learn what it takes to perform athletically at the highest levels.
Don's previous work includes Asst. Professor, Exercise Science program coordinator at Urbana University and prior to that he worked as the Director of B2B Business Development for Polar Electro.  He currently consults with sports/fitness facilities, individual athletes and sport organizations, But most of his time is spent supporting his wife, and his daughter, who is a member of the OSU lacrosse team.
For more information about Don Moxley, go to https://trainrecoverwin.wordpress.com
or connect with him using the Social Media links below.
Show Notes:
Don Moxley, contact info:
Website: https://trainrecoverwin.wordpress.com
E-mail: donmoxley@gmail.com
Instagram: https://www.instagram.com/donmoxley/
Twitter: https://twitter.com/donmoxley
LinkedIn: https://www.linkedin.com/in/donmoxley/
Facebook: https://www.facebook.com/donmoxley
Links mentioned in the Podcast (Part 1):
Dean Somerset, Personal Trainer, Kinesiologist, Exercise Physiologist
http://deansomerset.com
Check out the Moving2Live Podcast episodes featuring Dean Somerset, released 11/29/17 and 12/13/17. Here's the Link to Part 1: http://moving2live.blubrry.com/2017/11/29/podcast-13-17-dean-somerset/
Westside Barbell (Louis Simmons), Columbus, OH
https://www.westside-barbell.com
USA Cycling
http://www.usacycling.org
American College of Sports Medicine (ACSM)- ACSM is the largest sports medicine and exercise science organization in the world. With more than 50,000 members and certified professionals worldwide, ACSM is dedicated to advancing and integrating scientific research to provide educational and practical applications of exercise science and sports medicine.
http://acsm.org
Polar
https://www.polar.com/us-en
Columbus State Community College
https://www.cscc.edu
Dr. Gary Chimes, Lake Washington Sports & Spine, Bellevue, WA
https://www.lakewass.com
Check out the Moving2Live Podcast episodes featuring Dr. Gary Chimes, released 2/28/18 and 3/14/18.
Here's the link to Part 1: http://moving2live.blubrry.com/2018/02/28/podcast-9-18-dr-gary-chimes-lake-washington-sports-and-spine-part-1/
Contact Info for Moving2Live:
Web: Moving2Live
Email: mov2liv@gmail.com
Twitter: @_mov2liv
Instagram: @_mov2liv
Check out our sister podcast Fitness Lab Pittsburgh– FitLabPGH
Attribution for Intro/Exit Podcast Music:
 Travel Light by Jason Shaw from the album Audionautix: Acoustic, licensed under an Attribution 3.0 United States License. Available at www.FreeMusicArchive.org