Podcast: Play in new window | Download (Duration: 8:07 — 6.7MB)
Subscribe: Google Podcasts | Stitcher | Email | RSS | More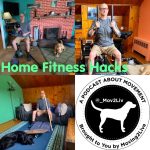 The Moving2Live and FitLabPGH Podcasts are doing something a little different this week. We're bringing you video podcasts to help make movement part of your at-home lifestyle. Whether you're exercising from home for the first time, or looking for a few hacks to make your home fitness space more functional, we hope today's tips will help you create a home that encourages you to move more.
Link to Video podcast part 1: Home Gym Ideas or Hacks part 1- video podcast
Link to Video podcast part 2 (on FitLabPGH podcast): Home Gym Ideas or Hacks part 2- video podcast
Home Hack 1: Hang a suspension trainer in your living room…ok, mostly joking about that one (although we DO have a set of gymnastic rings in our living room)…but if you have a dedicated workout space or a garage gym, a suspension trainer is a great addition to your home resistance training routine. Look for products from https://www.trxtraining.com or https://monkii.co or https://www.roguefitness.com or others. Added bonus: many suspension trainers, including those from TRX and Monkii, have door-mount options that make them travel friendly for hotel room workouts (for when we are free to travel again). If your space, or the person with whom you share your space, prohibits a suspension trainer…
Home Hack 2: Collect a variety of small, weighted tools and toys that allow you to craft at-home resistance training sessions. Look for: medicine balls, a steel mace (or 2), or RMT clubs from https://www.weckmethod.com – Looking for instruction on the use of your new tools? Consider booking an online session with a certified personal trainer or certified strength and conditioning specialist…or look for online videos…a few places to look: for steel mace ideas, look to @onnit and @Mr. MaceMan on Instagram. For RMT club ideas, look to @WeckMethod on Instagram. Added bonus for small tools and toys: you can stash them out of sight and break them out whenever you have time to squeeze in a movement session. Today's message: you don't need to make a large money or space commitment to move more at home, but if you DO want to make a bigger investment…
Home Hack 3: Dedicate a space to be your home fitness place. ONE of our dedicated spaces includes: a Rogue Pro Oblique Flexor (also great for back extension work); a Rogue Box Squat Box; and a set of adjustable dumbbells with a rack. Added bonus of a dedicated space: you might be inspired to move more every time you see it! One more tool to consider, whether or not you have a dedicated space: Indian Clubs. We suggest you start with a pair of light (1-2lb) clubs, available on Amazon…ready to move on to heavier clubs? Check out https://www.onnit.com
Do you have tips for creating a home fitness space or home movement routine? Please share with us in the comments. Check FitLabPGH (link below), our sister podcast Sunday (3/29) for more home fitness hacks!
Moving2Live is committed to providing concise but interesting podcasts for the movement and exercise professional and amateur aficionado. We are a podcast about movement. We are for people who understand that movement is part of what makes your life complete. Check out www.moving2live.com
Contact Info for Moving2Live:
Web: Moving2Live
Email: mov2liv@gmail.com
Twitter: @_mov2liv
Instagram: @_mov2liv
Listen to podcasts on YouTube
Check out our sister podcast Fitness Lab Pittsburgh– FitLabPGH
Attribution for Intro/Exit Podcast Music:
 Travel Light by Jason Shaw from the album Audionautix: Acoustic, licensed under an Attribution 3.0 United States License. Available at www.FreeMusicArchive.org