Podcast: Play in new window | Download (Duration: 39:23 — 31.8MB)
Subscribe: Google Podcasts | Stitcher | Email | RSS | More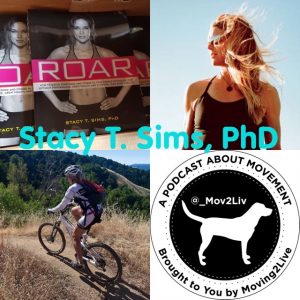 Moving2Live originally released this podcast episode on June 13, 2018.  As we approach the end of the year and people start considering resolutions for the new year/begin training programs we think this is valuable info to share.

Stacy T. Sims, PhD, is currently a Senior Research Scientist at the University of Waikato after returning to academia from a 6-year hiatus in industry. She is an applied researcher, innovator and entrepreneur in human performance, specifically sex differences in training, nutrition, and environmental conditions.
Prior to being launched into industry, she served as an exercise physiologist and nutrition scientist at Stanford University from 2007 to 2012, where she specialized in sex differences of environmental and nutritional considerations for recovery and performance, specializing in women's health and performance.  With the unique opportunities Silicon Valley has to offer, during her time at Stanford, she had the opportunity to translate earlier research into consumer products and a science-based layperson's book written to explain sex differences in training and nutrition across the lifespan. Both the consumer product companies and the book challenged the existing dogma for women in exercise, nutrition, and health outcomes.
Her contributions to the international research environment and the sports nutrition industry has established a new niche in sports nutrition; and established her reputation as the expert in sex differences in training, nutrition, and health.  As a direct result, she has been named as one of the top 50 visionaries of the running industry (2015), one of the top 40 women changing the paradigm of  her field (2017), one of the top four visionaries in the outdoor sport industry (2017), and one of the top four individuals changing the landscape in triathlon nutrition (2017).
A regular featured speaker at professional and academic conferences, including those hosted by USOC, HPSNZ, and USA cycling, she resides in Mount Maunganui with her husband and young daughter.
Show Notes:
Stacy T. Sims, PhD, contact info:
E-mail: stacy.sims@gmail.com
Twitter: https://twitter.com/summerstack
Instagram: https://www.instagram.com/drstacysims/
Facebook: https://www.facebook.com/drstacysims/
Links mentioned in the Podcast (Part 2):
The University of Waikato, New Zealand
http://www.waikato.ac.nz
ROAR: How to Match Your Food and Fitness to Your Unique Female Physiology for Optimum Performance, Great Health, and a Strong, Lean Body for Life Paperback – July 5, 2016 by Stacy Sims (Author), Selene Yeager  (Author)
https://www.amazon.com/ROAR-Fitness-Physiology-Optimum-Performance/dp/1623366860
High Performance Sport New Zealand
https://hpsnz.org.nz
Don Moxley- Sport Scientist,
https://trainrecoverwin.wordpress.com
check out the Moving2Live episodes featuring Don Moxley, released 4/4/18 and 4/18/18
Link to Part 1: http://moving2live.blubrry.com/2018/04/04/podcast-14-18-don-moxley-train-recover-win-osu-wrestling/
Leslie Bonci, MPH, RD, CSSD
http://activeeatingadvice.com
check out our sister podcast FitLabPGH featuring Leslie Bonci, released 9/3/17
Link: http://fitlabpgh.blubrry.com/2017/09/03/podcast-36-18-leslie-bonci/
Contact Info for Moving2Live:
Web: Moving2Live
Email: mov2liv@gmail.com
Twitter: @_mov2liv
Instagram: @_mov2liv
Listen to podcasts on YouTube
Check out our sister podcast Fitness Lab Pittsburgh– FitLabPGH
Attribution for Intro/Exit Podcast Music:
 Travel Light by Jason Shaw from the album Audionautix: Acoustic, licensed under an Attribution 3.0 United States License. Available at www.FreeMusicArchive.org