Podcast: Play in new window | Download (Duration: 8:52 — 7.3MB)
Subscribe: Google Podcasts | Stitcher | Email | RSS | More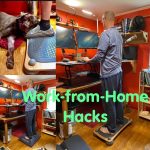 The Moving2Live and FitLabPGH Podcasts are doing something a little different this week. We're bringing you a video podcast to help make movement part of your working-from-home routine.
Whether you're faced with working from home for the first time, or looking for a few hacks to make your home office more functional for your body, we hope today's tips will help you create a home office space that encourages proper posture and regular movement.  You can listen to the audio of the podcast…or click the link to listen and watch…let us know what you think!!
Link to Video podcast: Make Movement Part of Your Working-From-Home Routine
Tip 1: Consider a standing desk. If you're not ready to commit to a VariDesk (now Vari – https://www.vari.com ) experiment with books, blocks, or boxes to raise your keyboard and monitor to the proper heights. For keyboard placement, you're looking for elbows at a 90 degree angle (or greater), and a neutral wrist position.
Tip 2: Experiment with a wobble board or other unstable surface. A few to try: a) The Level from Fluidstance – https://fluidstance.com – designed for standing desks. One caution, if you have pets in your office space, watch out for pinched paws or noses. b) Pono Ola wobble board – https://ponoola.com – you sway on inflated orbs – pet paws and noses are safe. c) SandDune Stepper – https://www.sanddunestepper.com available at RogueFitness.com https://www.roguefitness.com/the-sanddune-power-stepper – different densities of foam create an unstable surface – plus it's a fun fitness tool.
Tip 3: Tame the time you spend standing (or sitting) still. Set a timer and take a micro-movement break every 15 to 30 minutes…even a few seconds of shoulder rolls may help keep your body and mind fresh!
What are your top tips for working from home? Please share with us in the comments!
For more healthy lifestyle ideas and inspiration, check out the FitLabPGH podcast – we release a new episode (almost) every Sunday at www.FitLabPGH.com and on Spotify and YouTube – see the website for subscription options, and check out the archives…with over 140 episodes (and counting) to choose from, they might lead you to your new favorite activity. Movement is a Lifestyle, not just an activity…and make sure you wash your hands!
Contact Info for Moving2Live:
Web: Moving2Live
Email: mov2liv@gmail.com
Twitter: @_mov2liv
Instagram: @_mov2liv
Listen to podcasts on YouTube
Check out our sister podcast Fitness Lab Pittsburgh– FitLabPGH
Attribution for Intro/Exit Podcast Music:
 Travel Light by Jason Shaw from the album Audionautix: Acoustic, licensed under an Attribution 3.0 United States License. Available at www.FreeMusicArchive.org