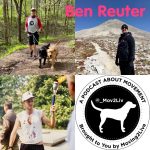 Moving2Live is a podcast about movement and exercise for professionals and aficionados.  We also have Movement is a Lifestyle Features. Each week, we publish a brief highlight of a 2- or 4-legged mover…someone who understands that movement is a lifestyle…not just an activity.  The questions are lightly edited to allow for easy readability.  Click FitLabPGH Features for more info if you want to be featured/know someone who should be featured.
This Week: Ben Reuter
Where do you consider "Home"? Home is what you make of it/where your safe place is. Currently ChezR, which is located in the Pittsburgh area
What are your three favorite movement activities? Hiking/trail running with my labradors, mtn biking and gravel biking/fire road riding
Describe the best vacation you've ever taken? Where did you go? What movement activities did you include? I don't know if it is the best, but one of the best was a few days in Salida, Colorado to visit a friend/mentor and his wife. We averaged 4-5 hours of movement a day. Probably the highlight was being able to summit my first 14er – Mt. Shavano. The most memorable vacation, or a combination of work as the medical director and "play" – for a number of years I was fortunate enough to go on the Georgia Games Torch Run- 7+ days of running and biking throughout the state of Georgia promoting the Georgia Games- best memory was drafting behind a police car going up over the bridge to Saint Simons Island on a Friday rush-hour when the sheriff closed down one entire lane of traffic 🙂 thumbs up
What is your favorite pre- or post-workout snack? Pre-work out – espresso. Post-workout: ice cold water and something salty if the workout was long
What is your favorite thing to eat? Note: it does not need to be healthy. Pizza; espresso; very, very good quality bread
Do you have a movement activity on your "bucket list"? If not, what's a movement activity/event you're looking forward to in the next year? Pittsburgh to DC on the Rails-to-Trails in 3 to 4 days and San Juan hut tour in Colorado
What do you think is the biggest obstacle to getting people to move more? Fear…of what other people will think of them or that people will judge them.
What do you feel is the most adventurous movement activity you've ever done? Probably the first time I went white water rafting. It was the first time I realized that there was something bigger than me that was in control (i.e., the water)
What is your favorite recovery or self-care practice? Sleep
What is your favorite spot within an hour of where you are currently living? (Bonus points if it is a "hidden gem") There is a spot in Mingo Creek Park in Washington County, Pennsylvania that has a section of trails through a group of maple trees… It is absolutely phenomenal in the fall – almost as good as an Aspen Grove in Colorado
Contact information for Ben Reuter:
Ben is the host of the Moving2Live Podcast. Follow his movement activities through Moving2Live on social media.
Instagram: https://www.instagram.com/_mov2liv/
Facebook: https://www.facebook.com/movingtoliv
Twitter: https://twitter.com/_mov2liv