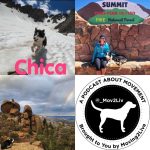 Moving2Live is a podcast about movement and exercise for professionals and aficionados.  We also have Movement is a Lifestyle Features. Each week, we publish a brief highlight of a 2- or 4-legged mover…someone who understands that movement is a lifestyle…not just an activity.  The questions are lightly edited to allow for easy readability.  Click MIAL Features for more info if you want to be featured/know someone who should be featured.
This Week: Chica
Where do you consider "Home"? Colorado Springs, CO
What are your three favorite movement activities? Trail running, frisbee (although I have been retired from this activity with concern for the jumping/twisting at my age), and playing in the snow
Describe the best vacation you've ever taken? Where did you go? What movement activities did you include? Last week I went with my humans to the Never Summer Mountain range. What is nice about that location is that their hut system allows canines (many hut systems do not). We were able to explore the Nokhu Crags and there was so much snow in June! Our cabin was right next to the creek so I had cold water accessible and could wade if I wanted to. We spent all day running and hiking, then when my humans would glissade the decent I could chase them.
What is your favorite pre- or post-workout snack? When I complete long runs (15+) or run on a hot day, my Mom will take me to get a pup cup from an ice cream stand in Manitou Springs, CO. Manitou is the starting point for a lot of our runs, and the owner is a local runner too. He has a pup cup that is one scoop of vanilla ice cream.
What is your favorite thing to eat? Note: it does not need to be healthy. Popcorn. I eat no human food except for the occasional pup cup and popcorn. When I hear the microwave starting, I run into the kitchen.
Do you have a movement activity on your "bucket list"? If not, what's a movement activity/event you're looking forward to in the next year? Every year on my birthday I do a new movement activity. Last year, for my 12th birthday, I summited 12 different peaks in Colorado. This year, when I turn 13, we are going to find a 13er to do.
What do you think is the biggest obstacle to getting people to move more? I think it can be overwhelming for people to start a new activity to create a lifestyle change. When my human, Melissa, started running it was when she adopted me. So she had a structure in place to keep her running since I always wanted to get out. If people don't have a structure to support their movement, it is difficult to keep going. Additionally, being patient is a big obstacle. A lot of times, dogs, included, we just want to do everything right away. But new movement takes time, training, and patience.
What do you feel is the most adventurous movement activity you've ever done? The year I turned 10 was my biggest summer. I summited Pikes Peak (local 14er) 7 times and I had two runs that were over 30 miles. I call that my Banner Summer.
What is your favorite recovery or self-care practice? I love my humidifier. My humans don't know why. But they set one up in the bedroom and I love to nap right below the mist, especially after a long run. Rest is especially important and I always take a day off after a hard activity.
What is your favorite spot within an hour of where you are currently living? (Bonus points if it is a "hidden gem") My favorite summit is a peak in Colorado Springs called Cameron Cone. About halfway up (less than one hour run) there are two rock formations called Gog and Magog. There is always a great view up there (see attached picture with the rainbows)
Contact information for Chica:
Chica does not maintain her own social media accounts, but you can follow her through her Mom, Melissa Stapanowich at:
Instagram: https://www.instagram.com/mstapanowich/