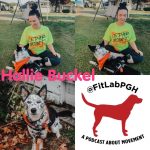 Moving2Live is a podcast about movement and exercise for professionals and aficionados.  We also have Movement is a Lifestyle Features. Each week, we publish a brief highlight of a 2- or 4-legged mover…someone who understands that movement is a lifestyle…not just an activity.  The questions are lightly edited to allow for easy readability.  Click FitLabPGH Features for more info if you want to be featured/know someone who should be featured.
This Week: Hallie Buckel
Where do you consider "Home"? North East, Pennsylvania
What are your three favorite movement activities? Yoga, Walking with my dog, and Playing with my niece and nephew
Describe the best vacation you've ever taken? Where did you go? What movement activities did you include? I went on a trip to Carlsbad, California, a few years ago. I walked to the beach and back every morning. I am a photographer, so I would do photo shoots with my cousin and on our walks everyday I would go down trails we found and take photos of the wildlife there. I tried my best to do a workout every night I could, on the beach. I remember the sound of the waves and the dolphins in the water being so soothing as was doing my physical therapy.
What is your favorite pre- or post-workout snack? My favorite post-workout snack is definitely my vegan strawberry banana smoothie.
What is your favorite thing to eat? Note: it does not need to be healthy. My favorite thing to eat has to be vegetarian chili over pasta. It is not the healthiest thing, but it is so comforting to sit and eat with your family after a long day!
Do you have a movement activity on your "bucket list"? If not, what's a movement activity/event you're looking forward to in the next year? The one thing I pray I will get to do one day is go on a hike at Moraine Lake in Canada. The view is gorgeous, from what I've seen, and it would be an incredible moment.
What do you think is the biggest obstacle to getting people to move more? A lot of individuals struggle to move more because they can't afford to go to the gym. They feel that without a gym they don't have the resources to workout. What so many people don't understand is if you have room to sit or lay on the floor, you are able to do so many things. I don't go to the gym and I am able to do yoga every morning and night, and I manage to fit in my physical therapy during the afternoon. All is done in my yard or my bedroom floor. There are so many options that you can do to keep moving that don't have to be done in a gym!
What do you feel is the most adventurous movement activity you've ever done? I once went on a hike through 16 mile crick, I did not hike the whole thing, and at the end of the hike I climbed an old bridge. My muscles were not happy with my climb at the end, but it was so fun!
What is your favorite recovery or self-care practice? The thing that feels amazing to recover after a hard day or a week of activities is a warm bath. Add in your favorite tunes and some essential oils and you've got the perfect relaxation time.
What is your favorite spot within an hour of where you are currently living? (Bonus points if it is a "hidden gem") Every Summer my family and I usually go on a hike through Jake's Rocks in Warren, Pa. There is a lookout with an amazing view of the Allegheny River and the large rocks throughout are so fun to climb!
Contact information for Hallie Buckel:
Instagram: https://www.instagram.com/halbuck2018/
Instagram: https://www.instagram.com/photography_hnb/
Facebook: https://www.facebook.com/hallie.buckel