Podcast: Play in new window | Download (Duration: 46:11 — 37.0MB)
Subscribe: Google Podcasts | Stitcher | Email | RSS | More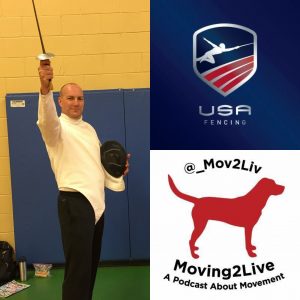 Periodically Moving2Live reposts past interviews.  We want to make sure that great info doesn't get lost in the "pod clog", which can occur with so many podcasts and so many episodes.
This week we revisit our interview with Sam Callan.  Sam is currently the Senior Manager of Coaching Education for USA Fencing.  If you are involved in coaching you will appreciate this talk with someone who epitomizes someone who is a coaching educator…we need more professionals like this.
Make sure you also check out Sam's weekly newsletter: SmarterCoaching, LLC Week Links.  If you are a coach, coach educator or just interested in movement this is a great read each week.
Link to the original podcast show notes: Show Notes
Contact Info for Moving2Live:
Web: Moving2Live
Email: mov2liv@gmail.com
Twitter: @_mov2liv
Instagram: @_mov2liv
Check out our sister podcast Fitness Lab Pittsburgh– FitLabPGH
Attribution for Intro/Exit Podcast Music:
 Travel Light by Jason Shaw from the album Audionautix: Acoustic, licensed under an Attribution 3.0 United States License. Available at www.FreeMusicArchive.org