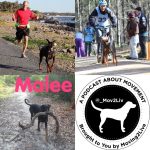 Moving2Live is a podcast about movement and exercise for professionals and aficionados.  We also have Movement is a Lifestyle Features. Each week, we publish a brief highlight of a 2- or 4-legged mover…someone who understands that movement is a lifestyle…not just an activity.  The questions are lightly edited to allow for easy readability.  Click MIAL Features for more info if you want to be featured/know someone who should be featured.
This Week: Malee
Where do you consider "Home"? Central Coast NSW Australia
What are your three favorite movement activities? Running, Swimming (if there is a stick to rescue and destroy), and more running
Describe the best vacation you've ever taken? Where did you go? What movement activities did you include? Gee, I think nearly every day is a vacation for me. When we do go to another house there's always either a beach or a forest nearby to explore (and room to run
What is your favorite pre- or post-workout snack? What is this question? Am I supposed to get treats? Rob doesn't feed me before or after I do any running. Can you please tell him I need more energy
What is your favorite thing to eat? Note: it does not need to be healthy. It's probably easier to answer what I don't like……. ahhh nothing really. Rob makes my meals and puts in all sort of yummy stuff (which is all pretty healthy). I do really like Kefir or yogurt with fruit.
Do you have a movement activity on your "bucket list"? If not, what's a movement activity/event you're looking forward to in the next year? Covid sucks, I want to camp in the forest and race against the fluffy dogs again
What do you think is the biggest obstacle to getting people to move more? They need to live for the moment a lot more and not worry so much, also they only have two legs
What do you feel is the most adventurous movement activity you've ever done? I'm a sled dog. Last year Rob and I were rookies of the year at our club. I get to run through the forest as fast as I like and Rob is there just behind me. He's much better now since he got the scooter thing cause before it was just like dragging around an anchor (he's sooo slow just using his legs)
What is your favorite recovery or self-care practice? Massage, I get all my human friends to do it to me. I like sharing this so when one stops I go to the next one.
What is your favorite spot within an hour of where you are currently living? (Bonus points if it is a "hidden gem") Strickland forest is just 5 minutes away and I love running the trails there (and occasionally I get to chase a wallaby).
Contact information for Malee:
Instagram: https://www.instagram.com/therelaxeddog/
Facebook: https://www.facebook.com/therelaxeddog
Website: https://www.therelaxeddog.com